The official start of the Masters is still a day away, but you wouldn't know it by the bumper-to-bumper traffic, the packed parking lots, and the long lines for golf shop souvenirs.
Tuesday marked the second day of practice rounds at the Augusta National Golf Club on Washington Road. Melissa Heiberger, an Augusta native who now lives in Atlanta, was ready to enjoy her sixth visit to the tournament like no other, but this time with fresh eyes.
"I used to go and not be a golfer, but now I'm a golfer," she said. "It's always interesting to see how people do stuff. And I just have a better understanding and appreciation for the sport. Also, just to be able to see the best of the best play, it's cool."
This visit is especially sweet because her golf-loving husband, Rob, will walk the course with her.
"This will be really his first because of last year's weather, we didn't really get to see anything. So, he's going to get to experience it. And it's like for most men, a dream come true, it's nirvana," she said.
Marvin and Valerie Anderson are visiting from Ohio. They were also here on Tuesday in 2022, got caught in the rain and the course closed early.
"I got lucky to get back because the person that came down last year had messed up his knee playing pickleball at home. And so we got his tickets last year at the last minute and he got them again this year," Marvin explained.
The tickets were from the annual lottery the National holds to give non-badge holders the opportunity to attend. When inclement weather and safety concerns prompted officials to close the course before 11 a.m. last year, lottery ticket holders were notified they would be guaranteed tickets for 2023, if they applied again when the lottery began accepting requests in June 2022.
It was the same procedure Augusta National used when COVID-19 forced the 2020 tournament to be postponed until November, then it was held without patrons. Ticket holders were told to retain their 2020 tickets and they would be honored for the 2021 tournament. However, the pandemic prompted officials to have limited attendance. Lottery ticket holders were refunded their money, and guaranteed they would be selected for 2022 if they reapplied.
Although gates were not scheduled to open until 8 a.m., traffic on Interstate 20 and River Watch Parkway was already heavy by 6:30 a.m. Richmond County deputies directed golf traffic to Alexander Drive, across Washington Road and into parking lots at the golf course. Those lots started filling up before dawn.
Marvin Anderson said the traffic plan used by the Georgia Department of Transportation and Augusta-Richmond County is helpful.
"I think it's pretty good. It was actually easier for us this year. My college roommate that I'm staying with now is in North Augusta," he explained.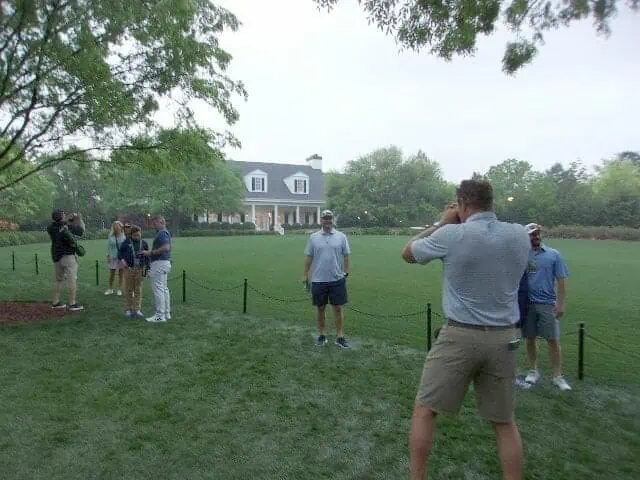 Overcast skies did not dampen the enthusiasm of golf fans as they fanned out across the course. Some patrons posed for photos with the clubhouse as the backdrop, dozens filled the bleachers set up at the practice tee to watch golfers work on their short game. Others set out from the first tee to explore the course.
One favorite spot, demonstrated by the long line of people waiting to get in, was the golf shop. Fans loaded up on memorabilia from clothes to housewares and pin flags, all with the distinctive Masters logo.
Heiberger's career has taken her to Chicago and Charlotte. Being back in Augusta this week is special for her.
"I think I've really started to appreciate that this is the one time of year that our city is on the stage, if you will. I think, only in the last couple of years, I've really sort of come back to that there is a place called Augusta, Georgia and it is really special. And it's beautiful," she said with pride.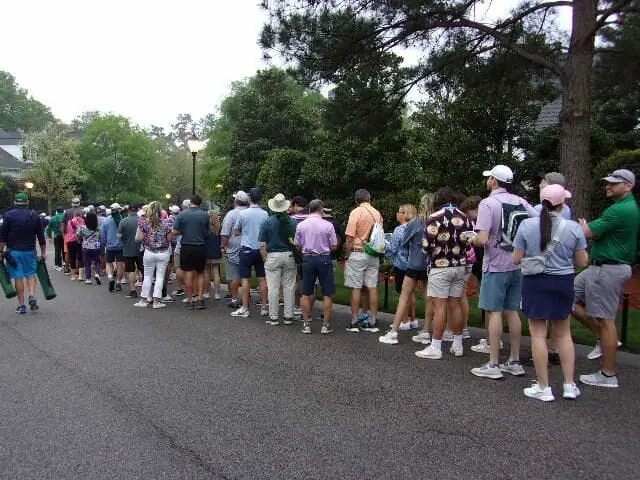 Valerie Anderson realizes how lucky she and her husband are to be able to return.
"I think of people that one of their bucket lists is to get here and they haven't yet. And through the luck of God, this is our third time and there's still thousands of people that haven't made it yet," she said.
There are days filled with golf still ahead. The Par Three competition is today. Official tournament play begins Thursday and runs through Sunday, when the 2023 Masters champion will don the iconic green jacket.