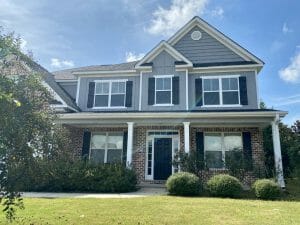 In Q2 of 2021, the rate at which Americans owned their own home was 65.4%, or roughly 2/3rds of our population. What was the most reported reason for purchasing a home in 2021? Well, the NAR (National Association of Realtors) reported that 27% of all buyers had a desire to be a homeowner. That's the American dream – to care for your family, or soon-expected family, and to provide them with a safe place to live.
So, how many homes does the average American buy in their lifetime? It is quite simple when you break it down. The first house is what we call a "starter home." Once a decent job is secured, Americans are ready to make their first step into home ownership. The typical path to your second home is to trade-in your starter home, and to move into a bigger home in a better school zone, because that starter home is not ideal for life changes. Then, once the time has come, all the children have left, and no one wants to clean and maintain a large, empty home. Now it's time to downsize and liquidate all the equity earned. Following the normal home ownership path, one can expect to buy 3 homes in their lifetime.
However, you are on Augusta Business Daily, so are you really an average American or are you a striving American? Over the last 20 years 90% of all the world's millionaires became such because of real estate assets and investing. I would encourage you to not follow the trade-up process, but to keep each home you buy, and to even leverage the homes you do own to purchase more than the average of 3 homes.
In the long run, you will be building another reliable source of income. The math is easy here – the more sources of income you have, the better off you and your family will be. Regardless of how many homes you buy in your lifetime, just being a homeowner is impressive and something to be proud of.